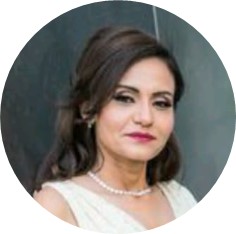 Nirvana Saad-Barrett
Nirvana is the Director for Middle East and North African markets at Phoenix. She is an experienced Learning and Development specialist with over 15 years corporate and senior management experience, empowering teams to thoroughly engage together and tackle real business challenges through training and consultancy.
The focus of Nirvana's work is to provide guidance to organisations on the design and delivery of skill-building training programs to meet their learning needs and address their employees' diverse learning styles. She has participated in the delivery and design of long-term blended training solutions molded according to the organisation's practices, culture and vision. The learning road-maps she delivered and tailored covered many subjects such as Leadership, Innovation, Negotiation, Presentation skills, Business Writing, Communication and other Interpersonal skills.
Nirvana is one of the pioneers to strategically introduce and implement Innovation training within the Middle East region. She delivered, designed and supervised multiple training sessions that covered the formulation of innovation strategy, ideas (creativity), process and climate (culture) that sustainable businesses need to successfully compete within the global markets they operate in. 
Nirvana's strength comes through her unique ability to use her business experiences to understand the knowledge and skills training participants need to increase their performance and productivity. She then designs and delivers programs in a way that excites and motivates trainees to use new skills and change their behaviour.
Nirvana has worked with many clients from diverse industries and countries such as Equate Petrochemical, Kuwait Fund for Arab Economic Development, Saudi Telecom, Almarai, Islamic Development Bank, SEDCO, Siemens, ABB Electrical, IKEA, Saudi Arabian Investment Bank, Advanced Electronics, Vodafone, Basamh, German Chamber of Commerce and Etisalat. She has attained intensive training in Organization Development and Capacity Building from Europe's renowned training and consultancy firm, MDF, The Netherlands. 
Nirvana is a speaker and education consultant whereby she collaborated with multiple universities such as University of Groningen (The Netherlands), Wageningen University (The Netherlands), Boulder University (USA) and Leeds Metropolitan University (UK).
Nirvana has a BA in Integrated Marketing and Communications from the American University in Cairo. She also holds an MSc from Wageningen University and PhD from Groningen University, The Netherlands, specializing in social behaviour. She is a certified Trainer from CPD in the UK and in Gamification from the University of Pennsylvania, USA.
Please contact Nirvana by email on nirvana@phoenix-training.co.uk or on 002 01223218266